ALL IN A DAY'S WORK
ALL IN A DAY'S WORK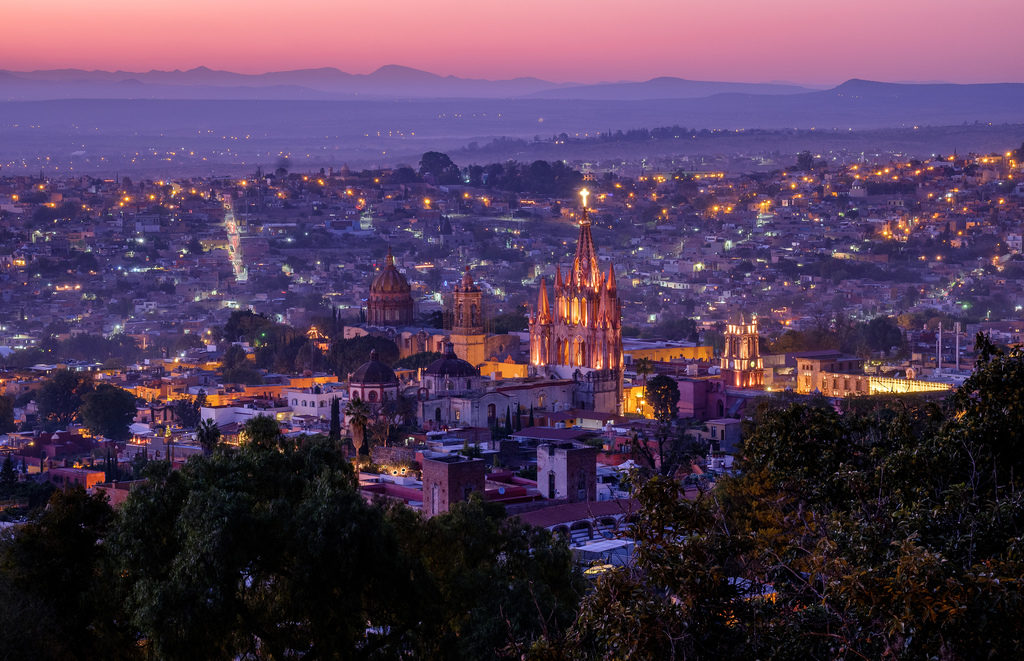 Eight high-level members of the American Embassy in Mexico City held a Town Hall meeting at St. Paul's today. The Parish Hall was over-flowing. We probably ought to have had our sound-system on alert. Our local Consulate Representatives, Mr. Ed Clancy and Mr. Greg Moore, were extremely articulate, as were our American Representatives, at the ready to speak to their areas of specialization, equally fluent in Spanish and English. I was especially pleased that, in addition to responding to English-language Americans, care and time was made for Spanish-speaking Americans, whose concerns often felt to me the most pressing among those gathered.
That St. Paul's is a center for citizens of the United States, Canada and Great Britain is a source of joy, but that we are a locale for Spanish-language citizens of those nations, and a focal-resource for those bridging languages, nationalities and culture offers particular satisfaction.
Robert Frost, that distinctive American poet, once said "The afternoon knows what the morning never suspected." Frost's words have had particular resonance with me since my move to San Miguel de Allende. My days seem somehow less predictable. There are moments when my felt inability to sufficiently organize annoys me in some measure, but I am generally delighted by a less predictable pulse.
This may be rooted, for a Southern Californian, in simple atmospherics. I have been quizzically delighted and surprised by the sudden onslaught of vibrant lightening, torrential rains, and resonant thunder-claps…sometimes with clear skies still in view, and at other junctures with dark and brooding skies lasting the whole night through. So today I  embarked from my abode at 8am with umbrella in hand. To underscore life's unpredictability, the umbrella was not needed.
Openness to what the day might bring was not, however, an improvident stance. Unexpected pastoral moments occurred following Morning Prayer (led today by Christine Eyre, whose British accent always delights). Ken McCutcheon-Vaun squired me to Luciernaga Plaza to pick up blood tests revealing my blood type…how did I arrive at this juncture without knowing I was 'O-negative?'…necessary for certain documents in Mexico.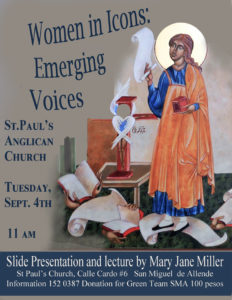 Then, following further unexpected events, Mary Jane Miller held forth at an eleven o'clock morning lecture on 'Women in Iconography.' Mary Jane, one of our own, is a gifted and astute iconographer who has worked for decades in Mexico, the United States and Greece, and articulates the essence of Christian Faith while offering fresh windows onto the sacred, and reclaiming the place of women in our Faith narrative. The lecture, replete with slides and Mary Jane Miller's slides and books, and accompanied by husband and co-artist Valentin Gomez, was completely inspiring and provocative. And all before breakfast.
Today I forgot to eat. This seems to happen often here, though it happened with some frequency also in San Marino. I am too easily distracted. The further details of this day, though interesting to me in all their minutiae, would prove tedious to eavesdroppers.
As I mulled morning presentation from a feminist deeply steeped in Tradition and giving our Faith fresh articulation (http://www.sanmiguelicons.com) to the late afternoon, with professionals from our esteemed United States Embassy in Mexico City taking considerable effort on behalf of the U.S. Spanish and English speaking citizens, here in San Miguel de Allende, I was struck by what an improbable and wonderful weave we inhabit.
As night fell, following a Google Hangout with my sister, and while preparing the only meal of my day, I summoned up 'Echo and the Bunnymen,' 'Tom Petty and the Heartbreakers,' and 'Jackson Brown,' via Alexa. I customarily listen to Latin Rock, and most generally 'Kevin Johannsen and the Nada' from Argentina, so I think this hearkening back to sounds from my past must have been some sort of reach for anchor amidst this in-breaking, and, in some ways unsettling new culture that I inhabit.
Next Tuesday is the seventeenth following September 11, 2001, and we will observe a 9am Mass of Remembrance at St. Paul's that Tuesday morning. We who are from the United States will offer prayer and tribute to our compatriots, and then, the following week, revel in Mexican Independence with the citizens of the nation who now offer us such warm and charitable hospitality. Here in Mexico there is such a meld of cultures and influences, sounds and sights.
We are deeply privileged to share the warp and weave.