OUR MINISTRIES & SERVICE
Many hands make light work.
Church actives thrive through volunteers who serve our congregation and the wider community. The ministries which our membership sustains are spiritual, loving, relevant and transformative as we put our faith into action through service. People-to-people and hands-on projects both help us to collaborate and be transformed spiritually. Join us!
Liturgical Ministries
Our membership prepares the altar for worship; flowers, lectors, acolytes, greeters, ushers, and readers. Their attention to detail and liturgy makes services not only lovely to behold but smoothly executed.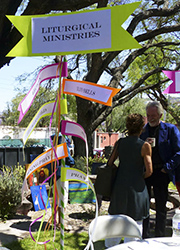 Liturgical service
Is vital to the life of St Paul's Anglican Church. Our members prepare the altar for worship, flowers, volunteer as intercessors, lectors, acolytes, greeters, ushers, and readers. Their attention to detail and liturgy makes services not only lovely to behold but smoothly executed. The Liturgical Ministries teams do not meet on a regular basis. They welcome you to join them, whether you are a full-time or part-time member of St. Paul's or if you are visiting and want to share some insights into how you do things in your parish.
Altar Guild
This dedicated group maintains and prepares all the altar linen, vessels, and clergy vestments before each service. New members (women and men) are always welcomed. The Altar Guild sets the Eucharist table on Sundays, Wednesdays and other feast days. They keep the altar linens clean and in good repair To volunteer contact Christine Eyre: galfrida@hotmail.com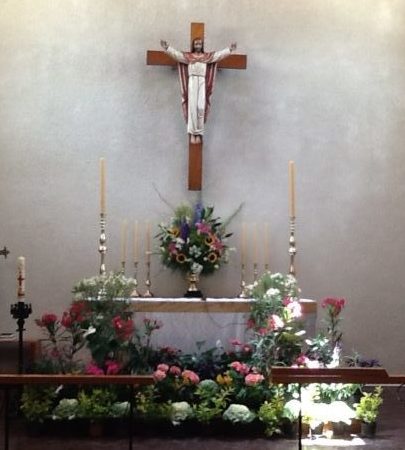 Flower Guild
The Flower Guild is responsible for the displays of flowers on the Altar and in the Chapel for all liturgies.  Members share the duties of purchasing, arranging and delivering flowers. After the liturgies, the flowers are taken to a hospital, one of San Miguel's residential homes for the elderly, or to a person in need of a joyous bouquet. To volunteer contact Isobella Kreizel: 152-2278 Email: ikreizel@aol.com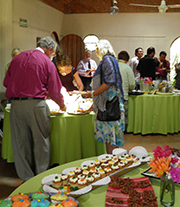 Coffee Hour
After each liturgy on Sunday, all are invited to gather for coffee, snacks, and conversation on the lawn. The coffee hour is a time to meet new friends and socialize with the community. Coffee and cookies are offered after the 9:00 am liturgy and after the 10:30 Eucharist. Parishioners can sign up to furnish refreshments; to celebrate, in remembrance or to honor a loved one. Our sign up sheet is located on parish hall bulletin board outside the parish office door or contact: Sara Tylosky: candstylosky2@gmail.com
Liturgical Art 
Members of the liturgical art committee combine their talents with needle and thread, paint, and fabric to create art for the church; altar cloths, banners, vestments, frontals and icons are simply some of our resources. Members of this ministry determine when and how often to meet. Our community has plenty of creative talent called into being, especially for Christmas, Easter, any holiday or unique happening. To join contact Adrian Ross: adrianrossdesigns@hotmail.com
Worship Service
Lectors read the lessons. To volunteer contact: Patti Daniel: pattijain@gmail.com
Morning Prayer is lead by lay persons on weekday mornings. To volunteer contact our Parish Administrator: stpaulsofficesma@gmail.com
Prayers of the People Lay persons lead during Sunday service in Spanish an English. If you are not Spanish speaking, you will be paired with a person who can lead the sections of prayers in Spanish. To volunteer contact Christine Eyre: galfrida@hotmail.com
Servers Contact: Acolytes, Gospel bearers, crucifers, chalice bearers, torch bearers, all contribute to worship services. To volunteer contact our Parish Administrator: stpaulsofficesma@gmail.com
Ushers/Greeters welcome parishioners as they arrive at the Sunday 10:30 service, assist with the collection, and guide people to the altar rail at Eucharist. To volunteer contact: Isobella Kreizel: ikreizel@aol.com
Church Ministries
Our congregation has many talents and a variety of projects which minister to those within and around the community of St Paul's.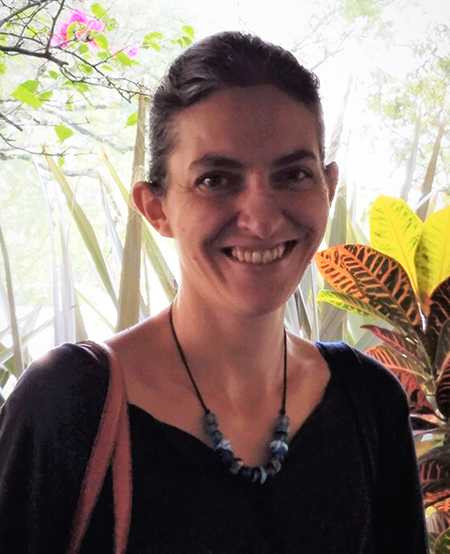 Mattress Project
This is a clever use of time and recycled materials to create soft bedding for those less fortunate than ourselves. The recipients of these mattresses are children living in the rural areas and others who live in extreme poverty. The ministry, which started many years ago, rolls plastic bags to stuff simple canvas covers. Hundreds of mattresses have been created over the years by both members and visitors. We continually need help to purchase material for the mattress cover and deliver finished mattresses. Bring your clean plastic bags to the church, and join us making mattresses on Wednesdays, 10:00 am.  For more information contact Claudia Stuart: gypsygems@gmail.com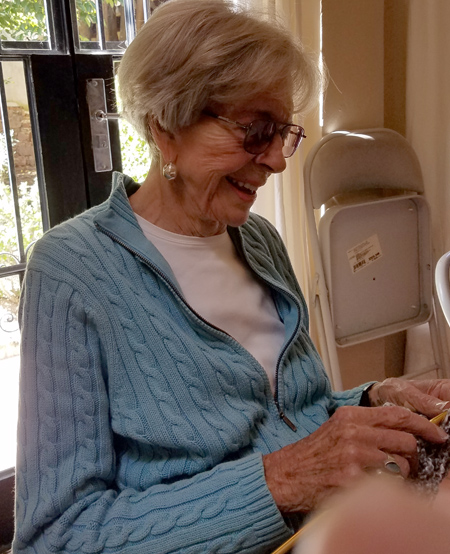 Prayer Shawl Ministry
If you are a knitter or would like to learn, join this group each week and make prayers shawls. Yarn is provided and the pattern is simple. After being blessed at a Sunday liturgy the shawls are then given to those who are ill, in the hospital, or suffering from grief, or simply need a soft gift of love and caring.   They meet: Wednesday, 10:30 - Noon in the Conference Room. Things you could do: Knit; Bring yarn from the States or Canada; Help deliver finished shawls.Contact Quinlan Brown: quoxna@icloud.com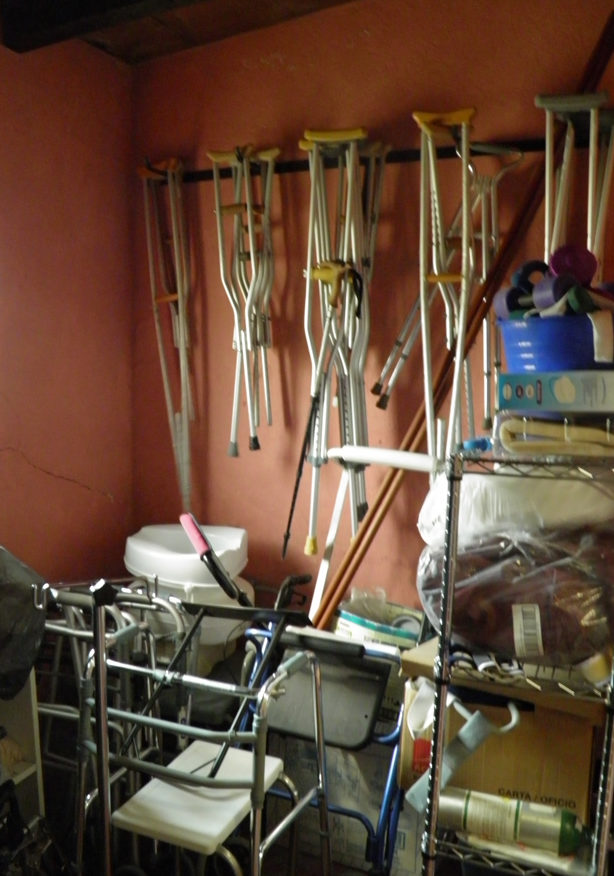 Medical Equipment Loan Program
Cobblestone streets or accidents in life can lead you to our Medical Closet. We loan quality medical equipment to assist members of the congregation or our San Miguel community free of charge. Items such as wheelchairs, walkers, crutches, etc. are available. Our needs for participation are ongoing so if you have any gently used medical equipment or appliances please donate them to this well known and important ministry. Contact Sunni Putnam: slpsma42@gmail.com
Cielito Lindo
Twice a month this group of parishioners and members of the community car-pool from Saint Paul's to Cielito Lindo, an assisted living facility located approximately twenty minutes from San Miguel. They share Eucharist with the residents and staff of this facility - in addition to being a great service it's a wonderful way to see the countryside of Mexico. For more information visit www.cielitolindoassistedliving.com
Care Committee 
This committee keeps in touch with St. Paul's members when they are ill, suffering the loss of a loved one, or in need of support. In conjunction with the Rector, they provide whatever support the member needs. They do not meet on a regular basis. If you are able to provide a meal, transportation to a doctor's appointment, time for visit to the house bound, or assist with other personal needs Contact Isobel Kreizel: ikreizel@aol.com
Danny Fund
Born in 2010, Danny has been unofficially adopted by St. Paul's. Parishioners make donations on the first Sunday of the month to pay for Daniel's school, clothes, food, and medicines. They do not meet on a regular basis. To pledge your support Contact Bonnie Eriksmoen: deriksmoen@aol.com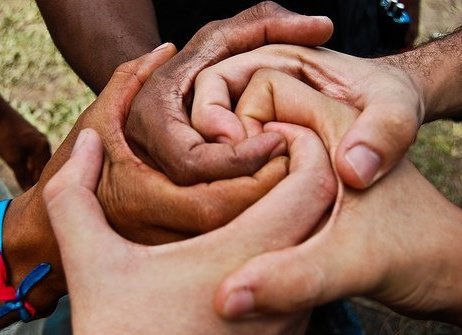 Green Team
The Green Team's purpose is to understand our scriptural call to care for creation by establishing an environment of awareness, and concern for conserving it's resources. We organize presentations by local and international experts on relevant issues such as San Miguel's water shortage. We meet as needed. We welcome your involvement by depositing your clean, plastic bags for our Mattress Project in the container basket by the parish hall doorway. We encourage all people everywhere in the world to be good stewards of God's creation. To join contact Mary Jane Miller: millericons@gmail.com or Paul Escott: pescott73@gmail.com
Community Ministries
We are involved in the larger community, making partners and friendships with our neighbors through service, and we seek to help heal the world through our advocacy activities.
Centro Infantil de los Ángeles has been a mission of St. Paul's church for almost 20 years.Centro Infantil provides free, high-quality daycare and preschool education to children from the most financially challenged families in San Miguel de Allende, Mexico.  Our programs care for over 160 children a day between the ages of 3 months and 6 years.  .We afford working parents (mostly single mothers) the comfort of knowing that their children are fed, nurtured, and taught in a safe and caring environment.  Free childcare enables parents to work and make a better life for their children, who are more prepared to succeed in primary school and beyond.
St. Paul's parishioners can support a child with an annual sponsorship of $500 USD ($42 USD per month). Sponsors receive regular updates by email and may come to the school to meet their sponsored child.For more information or to become a sponsor, please visit www.centroinfantil.org, or contact Lee Daneker, who is the Centro Infantil laision to St. Paul's, at leedaneker@comcast.net.
Feed the Hungry The mission of Feed the Hungry is well established in San Miguel Allende. The organization provides children with balanced nutrition. Begun in St. Paul's kitchen in 1984, the program has grown, providing 4,000 meals each school day through its school kitchens. When a new school kitchen is opened, attendance increases 15% to 20% as children enjoy a healthy meal while attending school at the same time. Volunteer opportunities include helping our warehouse, driving to schools and by participation in fund raising events. Visit: feedthehungrysma.org or contact Tony Adlerbert: adlerbert@gmail.com or Jonna Stratton at jonnainmex@gmail.com
St. Peter's Church, Lewes, Delaware, is our companion parish and a living bridge for those seeking spiritual growth and deeper relationship. This warm and welcoming congregation and clergy invite anyone seeking a relationship with Christ to join them at http://stpeterslewes.org/
San Miguel Icons
We have a resident iconograpgher, Mary Jane Miller, exhibiting some of her finest work which is on display throughout the church for all members and visitors to view and appreciate. Mary Jane offers classes http://sacrediconretreat.com/ and welcomes visitors to her studio: http://www.sanmiguelicons.com/
Ensamble San Miguel
This very talented and versatile group brings together the best musicians in San Miguel to perform at concerts, weddings, and events at St. Paul's and throughout the community. This group features songs of Mexico as well as international favorites. Xavier Herandez, also leads a thirty voice community choir, Voces Unidads. For more information visit: http://www.ensamblesma.com/ Contact Xavier Herandez: xazmer@live.com.mx
Pro Musica
Pro Musica is a long-standing concert series featuring internationally-known musicians, held at St. Paul's from September through March. Each season comprises of around 25 concerts, ranging from solo piano, violin and classical guitar recitals, through string quartets, to orchestra and opera. For more information visit: http://www.promusicasma.org